The not-for-profit School of OJAYA Deep Meditation


Start now FREE with these exquisite video Lessons from the Earthborn Rainforest:
— Our gift to you. —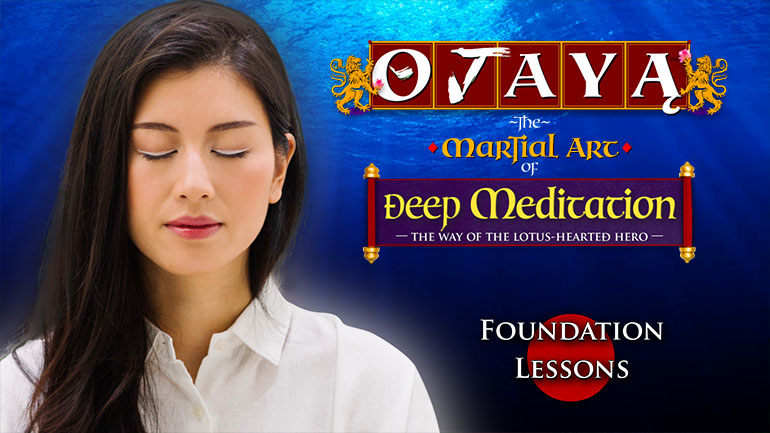 Take a breath … and begin the adventure FREE with the OJAYA Foundation Lessons … your blissful first Lessons in the rare, classic wisdom of the ancient OJAYA "Armor" Meditation technique.
Plus, Sukaishi David reveals his secret to youthful aging … as you are transported to his serene open-air classroom, deep in the Earthborn Rainforest.
See Course Contents below.
As a not-for-profit school serving the public, these exquisite video Lessons are now yours FREE during our "Open Door" Enrollment Period — our gift to you.
No credit card
or donation required.
This special FREE enrollment will expire at any time.
OJAYA: the Martial Art of Deep Meditation
Are you ready for
deep, blissful meditation?
Z Click each box
to learn long-forgotten meditation secrets:
I'm a beginner.
I want the most powerful, effortless meditation technique that gives me quick energy, cool emotional balance and deep inner calm — but I don't have a lot of time in my day!
I've got anxiety.
I live with terrible anxiety on a daily basis. I've tried everything to become naturally calm without drugs, but nothing has worked for me. I'm wondering if my mind will ever be at peace.
I'm tired and depressed.
My energy level is low and I'm not motivated to do anything — not even meditation. There's little joy or happiness in my daily life … and I just feel exhausted all the time. I want my life back.
I want to open my heart.
I want to experience a deep heart awakening. I want to love all people and have selfless compassion that flows deep in my soul. This is what meditation means to me.
I want more success.
I want to work smarter and achieve more in my business and my life. The stress of making a living wears me down. I want more energy, creativity and success — and more quality time with my family.
I practice mindfulness …
… but I never go very deep. I still wrestle with anxiety and trying to be "present." How does mindfulness compare to the OJAYA "Armor" technique?
 Read: "Why Mindfulness is not Deep Meditation"
I'm searching for my power in the "now."
I've been pursuing the "now" for a long time, but it's always very elusive. Whenever I find it, I quickly lose it again. I want to access the power of my full potential.
I'm jaded.
I've been around the block with other meditations. Now I want to take everything I know to the next level. I want to stop talking about it and experience a true, deep inner awakening.
We're real live people who volunteer our time to bring peace of mind to a frazzled world.
Call us now:
The OJAYA Deep Meditation Course — lovingly featured in:

View sample
magazine pages
why people like you
took the

3 I needed deep, restful,
rejuvenating SLEEP. Learn how
4 I was always TOO BUSY. I needed more free time, ENERGY and SUCCESS. Here's how
5 I needed an "Armor" of CALM inner STRENGTH to shield me from the ravages of stress ... for health, HEALING and YOUTHFUL aging.   Learn more
6
I got bored trying to always
WATCH
my
BREATH
.
Solve this
7 GUIDED MEDITATIONS never gave me permanent, ultra-deep PEACE of mind. Learn why
OJAYA: the Martial Art of Deep Meditation
No credit card
or donation required.
©MMXXII The not-for-profit school of the OJAYA Dharma Sangha
in the Earthborn Rainforest  Telephone: 641-472-3300